Master description 
Trainning & Conditions 
Costs 
Faculty of Agronomic Sciences
University of Abomey-Calavi
Collect, Process, Simulate and Analyze data
The Master in Statistics with major in Biostatistics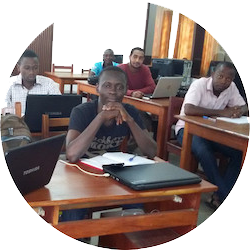 The Faculty of Agronomic Sciences of the University of Abomey-Calavi, through the Laboratory of Biomathematics and Forest Estimations (LABEF), ensures the training of Biostatisticians and at the end of the two years of study, it delivers a Master degree in Statistics, major Biostatistics. The aim of this Master is to train specialists of high level in Biostatistics. They will have strong theoretical basis in Statistical Methods and be able to apply them on life sciences.
TARGETS
This training is open to Bachelor Degree holders in Life Sciences domains (agronomy, environment, health…), or in Mathematics/Statistics or Master Degree holders wishing to acquire knowledge and know-how in the field of data collection and analysis.
PARTNERSHIP
University of Lome (Togo);
FAST/UAC (Benin);
IMSP/UAC (Benin);
INRAB (Benin),
University of Liege(Belgium)
University of Hawaii (USA).
THE TRAINING
The Master in Statistics with major in BIOSTATISTICS offers an extensive and unique training in recent statistical methods and tools toward their applications in Life sciences. At the end of the training, graduated students can easily go into professional life as Biostatistician or engage in research in Biostatistics by integrating a doctoral school.
SEMESTERS 1 AND 2 (FIRST YEAR)
English Course: September 1st – November 30th
Probability
Analysis
Partial Differential Equations
Statistical Computation and Simulation
Sampling and Re-sampling Methods
Linear Models
Introduction to multivariate statistical methods
Seminars
Quantitative Genetics
Survival analysis
Statistical methods in economy
Database and Informatics Resources
Statistical Methods in Economy
SEMESTERS 3 AND 4 (SECOND YEAR)
Designs of experiments
Pharmaco-cinetics
Matrix populations models
Linear and Generalized Linear Mixed Effect Models
Epidemiology
Bayesian Statistics
Multivariate statistical methods
Epidemiology
Non linear dynamical systems
Artificial intelligence and applications
Scientific writing
Internship and Master's thesis
PROFESSIONAL PERSPECTIVES
The field of Biostatistics is expanding. It deals with various sectors. The abilities this training gives in data collection, management, statistical analysis and valorization allow graduates to practice job of Biostatisticians in charge of Statistical Studies in various sectors.
The qualified for Master in Statistics, Major Biostatistics is a postgraduate who has followed a training directly linked with enterprises activities and who has acquired abilities in data processing and data management, especially in data collection planning and their statistical analysis.
EMPLOYMENTS
Biostatisticians are needed in Food Enterprises, Projects, Health Sector (Units of Clinical research), Department of Medical Information, Public and Private Research Institutions, Non Governmental Organizations (NGO), International Organization (FAO, UNDP, World Bank, etc.) ; Education and International Research Institutions.
ADMISSION REQUIREMENTS
Applicants should hold a Bachelor or a Master degree in agronomic sciences, biological sciences, pharmaceutical sciences, environment sciences or mathematics. Admission to the training is usually done on study of application documents (and if necessary an interview). Selection, based on application documents takes into account Academic records or professional course, Prerequisites in Statistics/Mathematics, Motivation.
The training is also open to postgraduates with high professional experience and whose work often needs statistical tools.
Language of the courses: English
REGISTRATION
Fees for application: 10 000 FCFA
Annual fees for registration and training: see details
English Courses : 50.000 FCFA
Deadline for application: June of each year
Starting date for English courses: September of each year
Starting date for the training at FSA/UAC: December
(1$ ≈ 500 FCFA)
FOR FURTHER INFORMATION
Coordinator of the Master
Pr Romain Glèlè Kakaï
Tel : +229 95 84 08 00
Email: glele.romain@labef-uac.org ou glele.romain@gmail.com
Faculté des Sciences Agronomiques, Université d'Abomey-Calavi, Benin
Tel: +229 95 84 08 00 Fax: +229 21 36 01 22
Email: contact.labef@gmail.com or donou.marcel@gmail.com
+229 90 14 04 58 or +229 67 80 86 30
WhatsApp: +229 90 14 04 58
APPLICATION DOCUMENTS
Motivation letter addressed to the Director of ED-SAE
Certified copy of birth certificate
Certified copy of Baccalaureate transcripts (BAC)
Certified copy of Baccalaureate certificate
Certified copy of Diploma or Attestation of Bachelor's Degree
Certified copy of 1st, 2nd and 3rd year transcripts
Certified copy of internship certificates
Attestation of deposit of diplomas or attestations for authentication for those who did not obtain their diplomas in Benin
Curriculum Vitae
English course is compulsory and the teaching fees are XOF 50 000. These fees are to be paid after the application has been definitively Anglophone and holders of TOEFL certification (English) are not concerned by this intensive course.
Parental commitment certified by a notary.
Receipt of University Orientation Commission (CUO in French). The CUO fee is XOF 2000 and will be paid after the application has been pre-selected at the ED-SAE.
Fees for application amounting to XOF 30 000 to be paid into the account of ED-SAE.
NB: (1$ ≈ XOF 550)
PLACE OF APPLICATION
at the secretariat of the Master located on the second floor of Building I (CBIG) at the Faculty of Agronomic Sciences of the University of Abomey-Calavi from 09 AM to 5 PM or;
at the secretariat of the Doctoral School of Agronomic and Water Sciences (ED-SAE) of the University of Abomey-Calavi (UAC) located at the Faculty of Agronomic Sciences of the University of Abomey-Calavi from 09 AM to 5 PM or;
by email to the following addresses: labef@gmail.com with a copy to donou.marcel@gmail.com and afiaombada@yahoo.fr